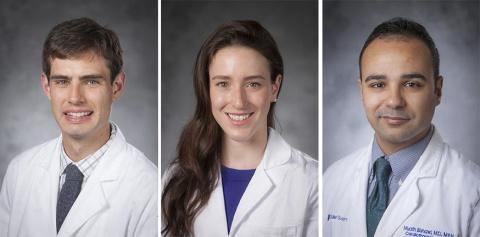 Congratulations to Drs. Brian Shaw, General Surgery Resident, E. Hope Weissler, Vascular Surgery Integrated Resident, and Muath Bishawi, Integrated Thoracic Surgery Resident, for receiving the Stimulating Access to Research in Residency (StARR) R38 awards from the National Institutes of Health.
The StARR R38 award supports the development of physician-scientists. It's designed to facilitate the transition of resident physicians to independent physician investigators in academic medicine through consistent support in mentorship and funds over a period of time. This award will support the research of these recipients:
Brian Shaw, MD: "The Relationship Between T Cell Receptor Diversity and Co-Stimulation Blockade Resistant Rejection in Kidney Transplantation"
E. Hope Weissler, MD: "Addressing Variability in Peripheral Arterial Disease Outcomes Using Machine Learning Techniques"
Muath Bishawi, MD, MPH: "The Effect of Radiation on Cardiovascular Function"
Please join the department in congratulating Drs. Shaw, Weissler, and Bishawi on this achievement.