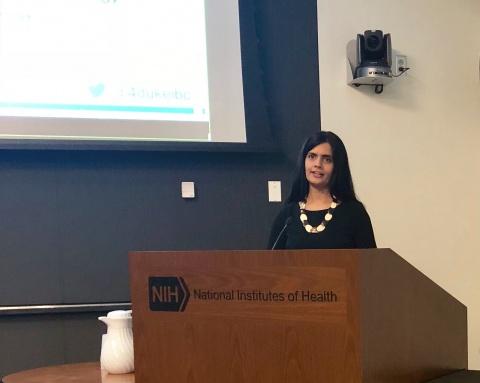 Gayathri Devi, PhD, Associate Professor of Surgery, Division of Surgical Sciences, was an invited speaker at the 2nd National Cancer Institute Symposium on Cancer Health Disparities held October 25-26, 2018, at the National Institute of Health in Bethesda, Maryland. The goal of this symposium was to highlight recent advances in our understanding of the causes of cancer health disparities in the Unites States and globally.
The discussion focused on disparities in cancer outcomes and survivorship and strategies to reduce these disparities, such as novel approaches to prevention, the use of immunotherapy, and precision medicine.
Dr. Devi presented her laboratory's work titled, "Adaptation to Immune-Mediated Cell Death Response in Breast Cancer Health Disparity" during the session on Immunotherapy and Cancer Health Disparities.