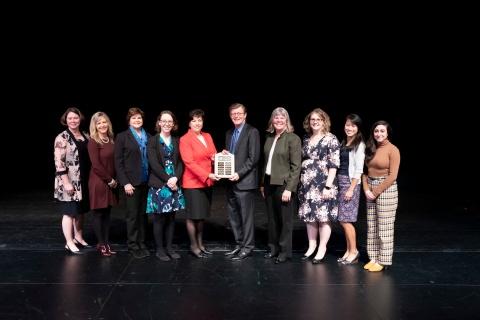 The Advanced Practice Providers (APPs) on the Breast Surgical Oncology Team have received a Presidential Award from Duke University President Vincent E. Price, one of the highest honors awarded to faculty and staff at Duke. The Breast Surgery APPs were recognized for providing compassionate care to patients undergoing treatment for breast cancer while working to improve the quality of care.
"The nine incredible women who make up the Duke Breast Surgery APP team form a strong link between patients and the health system, and provide both high-quality care and strong advocacy for patients who face the frightening diagnosis of breast cancer," says Dr. Shelley Hwang, Chief of Breast Surgical Oncology and Vice Chair for Research in the Department of Surgery.
Given annually, the Presidential Awards recognize individuals and teams who make significant contributions to Duke University and Duke University Health System and demonstrate institutional values of respect, trust, inclusion, diversity, and excellence.