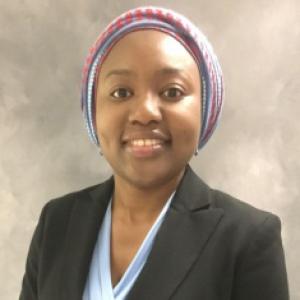 Principal Investigator
Assistant Professor of Surgery
Member of the Duke Cancer Institute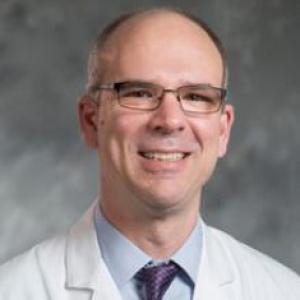 Principal Investigator
Professor of Surgery
Member of the Duke Cancer Institute

Contact Information
Office: 10 Bryan Searle Drive, Durham, NC 27710
Campus Mail: DUMC Box 2945 Med Ctr, Durham, NC 27710
Overview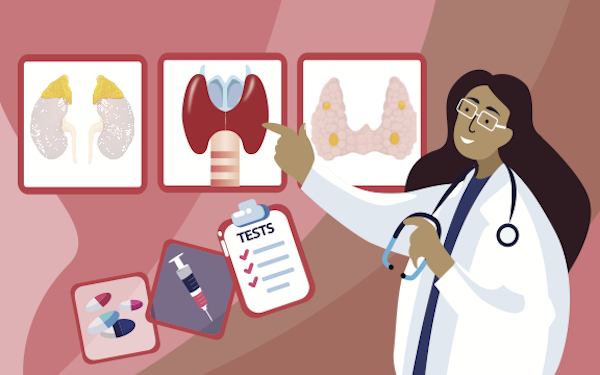 The Duke Endocrine Neoplasia Research Group is committed to providing high-quality research and training in the field of Endocrine Neoplasia. The group comprises surgeons, endocrinologists, medical and radiation oncologists, residents, fellows, health services researchers, epidemiologists, pathologists, biostatisticians, surgical scientists, pharmacologists, and environmental health scientists at Duke, as well as surgery and biomedical engineering faculty from UNC-Chapel Hill and NC State. The multidisciplinary nature of this group makes it ideal to tackle the pressing issues of endocrine neoplasms and work toward bridging gaps in patient care at the individual and population levels.
Our research is focused on benign and malignant diseases of the thyroid, parathyroid, and adrenal glands. Although our primary focus is health services research and health outcomes, we are also interested in examining different issues along the continuum of patient care, including translational research, the psychological and economic impact on patients of endocrine diseases, and patients' decisions regarding the different diagnostic and treatment strategies available them.
We have developed two institutional databases to facilitate the achievement of our research goals. The PORT-Thyroid database collects longitudinal baseline, treatment, clinical and patient-reported outcomes data for all patients with benign and malignant thyroid disease treated in the Duke University Health System beginning from January 2015. The MTC registry collects granular longitudinal data for all patients treated for syndromic and non-syndromic medullary thyroid cancer within the Duke Health System since 1996. These databases supplement our access to other nationwide data such as HCUP-NIS, SEER, SEER-Medicare, MarketScan, ACS-NSQIP, and CESQIP.
Key Projects Underway
Precision science and decision-making in the management of low-risk thyroid cancer

Patient-reported outcomes following treatment for benign and malignant thyroid disease

Fine-tuning risk stratification of patients with sporadic and hereditary medullary thyroid cancer (including MEN 2) using a large institutional database

Examination of national trends in the management of local and advanced medullary thyroid cancer

Factors associated with improved outcomes for patients with secondary and tertiary hyperparathyroidism

Assessing the impact of personalized care for patients with primary hyperparathyroidism
For more information, please contact:
Hadiza Shu'aib Kazaure, MD
Assistant Professor of Surgery
Surgical Oncology
Hadiza.kazaure@duke.edu
Randall Paul Scheri, MD
Chief, Section of Endocrine Surgery
Director, Endocrine Surgery Fellowship
Associate Professor of Surgery
Surgical Oncology
R.scheri@duke.edu
Selected Achievements
The research we have undertaken has had an impact on the way patients with endocrine diseases, specifically thyroid cancer, are cared for in the United States. Some of our most impactful recent projects have included:
Optimal extent of surgical resection for differentiated thyroid cancer (featured as a landmark study in the 2015 edition of the practice guidelines for thyroid nodules and differentiated thyroid cancer of the American Thyroid Association)
Role of age in disease severity and selection for treatment of differentiated thyroid cancer
Prognostic role of lymph node metastases in differentiated thyroid cancer
Utilization and oncologic safety of alternative surgical approaches, such as robotic and endoscopic thyroidectomy 
Establishing minimum annual surgeon volume thresholds for thyroidectomy for optimal patient outcomes (featured in the New York Times, The Washington Post, and included in the 2016 edition of the practice guidelines for hyperthyroidism and thyrotoxicosis of the American Thyroid Association)
Recent Publications from the Endocrine Neoplasia Group
Abstracts and Publications of Recent Endocrine Surgery Fellows During Fellowship
Jessica Dahle, MD, MS (fellow, 2020-2021)
Poster abstract display at the Virtual American Association of Endocrine Surgeons annual meeting (2021) titled ""Utilization of FNA for Benign and Malignant Neoplasms in the ACS-NSQIP Thyroidectomy Database"
Interesting Case presentation at the Virtual American Association of Endocrine Surgeons (2021) titled "(Adrenally) Insufficient Evaluations"
Book Chapter in Shen et al, "Controversies in Thyroid Nodules and Differentiated Thyroid Cancer"; chapter title: "Extent of Surgery for Low-Risk Papillary Thyroid Cancer"; in press
Christopher Young, DO (fellow, 2019-2020)
Abstract accepted for poster presentation at the AAES annual meeting (2019, canceled due to COVID): "Outcomes of Concomitant Parathyroidectomy and Thyroidectomy among CESQIP Surgeons"
Annette Marrero, MD, MPH (fellow, 2018-2019)
Marrero AP, Kazaure HS, Thomas SM, Stang MT, Scheri RS. "Patient Selection and Outcomes of Laparoscopic Transabdominal versus Posterior Retroperitoneal Adrenalectomy among CESQIP Surgeons". Surgery. 2020 Jan;167(1):250-256. doi: 10.1016/j.surg.2019.03.034. Epub 2019 Sep 19.PMID: 31543324
Podium presentation at the AAES annual meeting (2019): Winner, Neurovision award.  "Patient Selection and Outcomes of Laparoscopic Transabdominal versus Posterior Retroperitoneal Adrenalectomy among CESQIP Surgeons"
Hadiza S Kazaure, MD (fellow, 2017-2018)
Podium presentation at the AAES annual meeting (2018); Winner, Neurovision top abstract award; "The Devil is in the Details: Assessing Treatment and Outcomes of 6795 Patients Undergoing Remedial Parathyroidectomy in CESQIP".
Kazaure HS, Thomas SM, Stang MT, Scheri RS, Roman SA, Sosa JA. "The Devil is in the Details: Assessing Treatment and Outcomes of 6795 Patients Undergoing Remedial Parathyroidectomy in CESQIP". Surgery.2019 Jan;165(1):242-249. 
Chereau N, Oyekunle T, Zambeli-Ljepovic A, Kazaure HS, Roman S, Menegaux F, Sosa JA. "Using the 8th Edition of the AJCC/UICC Staging System to Predict Recurrence of Papillary Thyroid Cancer: A Novel Application". Br J Surg. 2019 Jun;106(7):889-897.
Kazaure HS, Sosa JA. "Volume-Outcome relationship in adrenalectomy". Best Practice & Research Clinical Endocrinology & Metabolism. Best Pract Res Clin Endocrinol Metab. 2019 Oct;33(5):101296
Kazaure HS, Sosa JA. "Surgical Hypoparathyroidism". Endocrinol Metab Clin North Am. 2018 Dec;47(4):783-796.
Kazaure HS, Roman SA, Sosa JA. The impact of age on thyroid cancer staging. Curr Opin Endocrinol Diabetes Obes. 2018 Oct;25(5):330-334
Faculty Members
Assistant Professor of Surgery
Associate Professor of Surgery
Statistical Support
Samantha Thomas, MS
Frances Wang, MS
Former Trainees      
Alan Ljepovic-Zambeli, BS
Linda Youngwirth, MD
Athos Konstantinidis, MD
Mohamed Adam, MD
Kevin Anderson, BS
Lauren Pontius, BS
Keven Ji, BS
Perez Agaba, BS
Syed Ammer Shah, MD
Ewa Ruel, MD
Recent and Current Trainees
Alexander Gunn, MS (medical student)
Nicholas Frisco, BS (medical student)
Molly Pradhan, MS (Physician assistant)
Jessica Dahle, MD, MS (fellow, 2020-2021)
Robert Rampp, MD (fellow, 2021-2022)