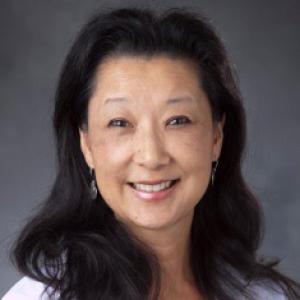 Principal Investigator
Mary and Deryl Hart Distinguished Professor of Surgery, in the School of Medicine
Professor of Surgery
Vice Chair of Research in the Department of Surgery
Professor of Radiology
Core Faculty Member, Duke-Margolis Center for Health Policy
Member of the Duke Cancer Institute

Overview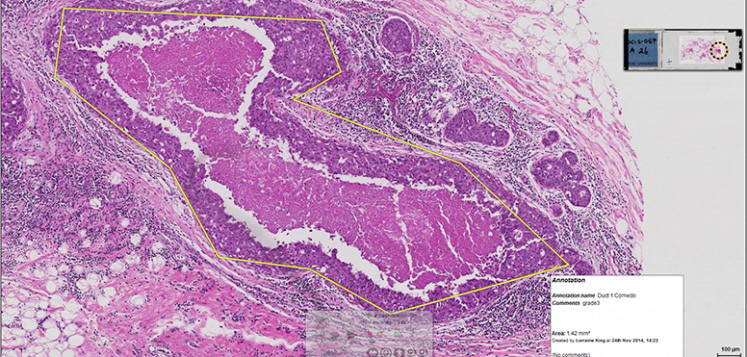 Research efforts led by Jeffrey Marks, PhD, and E. Shelley Hwang, MD, MPH, focus on the earliest stages of breast cancer. Working at the center of multi-institutional and multi-disciplinary projects on the disease, the Marks-Hwang laboratory studies the genetics, microenvironment, and evolution of early breast cancer. We are studying primary human ductal carcinoma in situ (DCIS) lesions that have not progressed to invasive cancer and comparing these to lesions that have progressed to invasive and metastatic disease. Our central hypothesis regarding progression is that principles of evolution applied to human cancer can help to predict which lesions should be aggressively treated from those that are indolent and unlikely to progress. 
To test this, we are pushing next-generation sequencing to the current technologic limits to derive broad exome-based DNA analysis to measure variant alleles and copy number changes that underlie the genetic and phenotypic heterogeneity of the disease. In parallel, we are also measuring parameters of the microenvironment as additional driving forces in tumor evolution. Our goal is to combine the most informative elements that define heterogeneity into a practical tool that can accurately predict the likelihood of progression. 
The lab has focused on highly multi-disciplinary projects incorporating quantitative, population, genetic, and behavioral approaches. Given the heterogeneity of human beings and the cancers that arise in them, it is essential to balance and validate insights gained from in vitro approaches and model systems with the actual primary disease states. Fully embracing this heterogeneity and complexity towards incorporating it into clinical practice constitutes the next major challenge our lab seeks to explore in cancer research. 
Dr. Marks is a Ph.D. basic/translational scientist who has investigated numerous aspects of breast and ovarian cancer since joining the faculty of the Department of Surgery in 1988. Dr. Hwang is a breast cancer surgeon and translational researcher who has been at Duke since 2011. These two investigators have common interests in studying cancer progression of DCIS, an increasingly common diagnosis that is not invasive at the time of presentation but carries a measurable risk of invasive progression. Treatment for this proliferative breast condition ranges from a watchful waiting approach to bilateral mastectomy. Therefore, in addition to the biologic relationship between DCIS and invasive cancer, the broad range of treatments that are considered appropriate makes this disease of great scientific interest and fundamental importance. The lab is highly interdisiciplinary and integrates scientific collaborators from UCSF, OHSU, Stanford University, USC, and member institutions of the TBCRC, a clinical trials translational research network.
Contact Us
Jeffrey R. Marks, PhD
Jeff.marks@duke.edu
Shelley Hwang, MD, MPH
Shelley.hwang@duke.edu
Lorraine King, PhD
Lorraine.king@duke.edu
Publications and Funded Projects
View Dr. Hwang's profile to see her publications and funded projects.
Lab Members
Jeffrey Marks, Ph.D. has been engaged in basic and applied cancer research for more than 30 years beginning with his post-doctoral fellowship under Arnold Levine at Princeton. Since being appointed to the faculty in the Department of Surgery at Duke, his primary interest has been towards understanding breast and ovarian cancer. He is a charter member of the NCI-Early Detection Research Network (EDRN) and has been an integral scientist in the breast and gynecologic collaborative group for 15 years, including leading this group for a 5-year period. He is also a major contributor to The Cancer Genome Atlas (TCGA) in Breast Cancer. His current research interests are in the molecular etiology of these diseases and understanding how key genetic events contribute to their onset and progression. He currently participates in studies to elucidate the role of estrogen receptor in breast cancer initiation, developing and applying metrics of breast cancer heterogeneity, and population-based studies to determine whether ovarian cancers are systematically different in women of African versus European ancestry. In addition, he continues to develop and test biomarkers for breast cancer detection and progression.
Dr. Shelley Hwang's research has focused on changing treatment paradigms for DCIS and early stage breast cancer. Her interests have spanned a broad range of projects in translational research which seek to elaborate biomarkers in the tumor, the microenvironment, and blood. She has ongoing collaborations with investigators on the role of tissue stiffness and mammographic density as markers of breast cancer risk. She is also a clinical trialist, and is national PI of two cooperative groups trials to evaluate the role of 1) aromatase inhibitors, and 2) metformin in reduction of breast cancer risk. Together with her co-investigators in mathematics, she collaborates with CISNET on developing computational models of cancer progression. She leads efforts to use large datasets, such as SEER and SEER-Medicare, NCDB, and electronic datamarts, to study treatment patterns and quality of life outcomes of cancer treatment and care delivery. She has national leadership roles on the NCI Breast Cancer Steering Committee, the NCCN Breast Cancer Screening and Diagnosis Committee, and the NCTN (National Clinical Trials Network).
Dr. Lorraine King
Dr. Lorraine King is the project manager for all DCIS research activities. She has a background in molecular biology of women's cancers: breast, cervical, and ovarian. Currently, her research focus is on heterogeneity in early breast cancer (DCIS). The aim of the research is to determine which types of DCIS will progress to invasive cancer or which cases will have disease recurrence. This work has been expanded to a multi-site study with the Triangle Breast Cancer Research consortium (TBCRC).
Dr. Allison Hall
Dr. Allison Hall is an expert breast pathologist who is Director of Breast Pathology at Duke and is involved both in the clinical care of breast cancer patients as well as in multiple breast cancer research projects. The focus of her work has been to elucidate the role of heterogeneity in breast cancer progression, with special emphasis on biomarkers of DCIS progression.
Dr. Joseph Lo
Dr. Joseph Lo is a world-renowned expert in computer-assisted detection and diagnosis of breast cancer. Dr. Lo has specialized in developing computer models that predict malignancy, invasion, and other clinically relevant endpoints of breast cancer. He participates in projects that involve his extensive experience in extracting and analyzing mammographic features generated both by radiologists and computer image processing algorithms. He also has expertise in developing statistical and machine learning models to predict malignancy and invasion.
Dr. Thomas Lynch
Dr. Thomas Lynch is project lead for the multicenter COMET trial and draws from his broad experience in working with multidisciplinary research teams, patient engagement teams, and various multi-stakeholder panels within both for domestic and international work. Dr. Lynch possesses extensive knowledge of medical research studies, data collection procedures, and relevant databases and software. He has conducted qualitative research on the ways in which discourses of 'surveillance' and responsibility impact upon women who are 'predisposed' to developing breast cancer and applies this knowledge in leading engagement for the COMET trial.