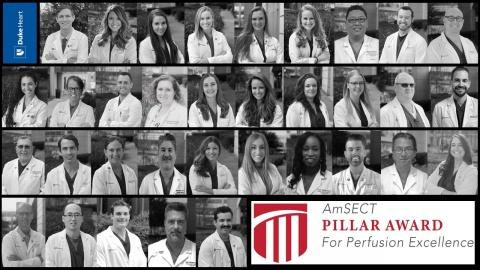 Duke Perfusion Services has been named one of the inaugural recipients of the Pillar Award for Perfusion Excellence by the American Society of Extracorporeal Technology (AmSECT). Awardees are being recognized for their programmatic dedication to excellence as well as professional standards across four categories or "pillars" — quality, community, responsibility, and education.
"We are so fortunate at Duke to have such an outstanding team of perfusionists who support our cardiothoracic faculty at the highest level possible all while embracing the core values encompassing this award," said Edward P. Chen, MD, Chief of the Division of Cardiovascular and Thoracic Surgery. "It is a true privilege to have them on the Duke Heart Team."
With thirty-four perfusionists, Duke Heart offers one of the largest and best trained perfusion teams in the U.S. Each member of the team is certified by the American Board of Cardiovascular Perfusion, licensed by the North Carolina Medical Board, and most hold advanced degrees and credentials. In addition to proficiency in cardiopulmonary bypass (operating the heart-lung machine during cardiothoracic surgery), Duke perfusionists specialize in order to support a variety of needs across the hospital. Duke offers a dedicated team of pediatric perfusionists, as well as a team to support heart surgery at Duke Regional Hospital. There is a team that specializes in Extra-Corporeal Life Support (ECLS) assisting with cannulating and retrieving patients from referring hospitals; there is a team that provides apheresis in the OR, and a team trained in use of the Transmedics Organ Care System, increasing the donor pool for Duke's Heart Transplant program.
"Perfusionists have a distinct role," says Desiree Bonadonna, chief of Perfusion Services at Duke. "I don't think many people are aware of the full scope of our practice. In the operating room we run cardiopulmonary bypass which is quite complex and responsible for the patient's circulation, respiratory function, and anesthesia and drug delivery while the surgeon is operating on the heart or lung. We have expertise in ventricular assist devices, extracorporeal membrane oxygenation (ECMO), really anything that involves pumping blood or perfusing organs, such as specialized chemo delivery systems used in surgical oncology cases. We are invested in education, research and quality improvement work and we are doing it in the high volume, high performance space of Duke Heart. We are very excited to be one of the first programs recognized with a Pillar award."
Members of the Duke Perfusion team are regularly invited to present at national conferences, and a number of perfusion schools send their students here to learn from the Duke team.
"On behalf of the Cardiothoracic Anesthesiology and Critical Care faculty, I would like to extend a big round of applause and heartfelt congratulations to our Duke Perfusion family on their receipt of the inaugural 2021 AmSECT Pillar Award, said Mihai V. Podgoreanu, MD, chief of Cardiothoracic Anesthesiology. "Founded on a tradition of excellence, this program has continued to expand and perform outstandingly in supporting the ever-increasing clinical needs of extracorporeal technology both in the operating rooms and intensive care units. Through leadership, patient-centeredness, innovation, ownership, meticulous attention to quality improvement and collaboration, this talented and passionate group of professionals is contributing 24/7 to life-changing procedures, shaping the next generations of perfusionists and cardiovascular physician trainees through education and simulation, and generating new research knowledge. Bravo!"
Criteria for the award included demonstration of a clear management structure; well-developed protocols and procedures; an onboarding and orientation process; quality assurance standards and processes, and a professional commitment to the field. At Duke, each member of the perfusion team is also a member of a professional organization or society for the advancement of the field of perfusion – this way they are always learning and contributing.
"The value of our perfusion team to patient care at Duke cannot be underestimated or overstated," adds Andrew J. Lodge, MD, Medical Director of Quality and Safety for Children's Surgery. "I have been saying for years that the Duke Perfusion team is consistently the best group of individuals with whom I have had the pleasure to work. Their various sections have been characterized by excellent leadership and outstanding clinical skills.
"To a person, the perfusionists with whom I've worked, particularly on the pediatric and ECMO teams, have been exemplary colleagues. Additional words I would use to describe them are compassionate, dedicated, professional, driven, and ambitious. Not only are they great educators, they are always striving to learn themselves. They are on the cutting edge of technology, and allow us to offer the best available treatments for our patients. They are tireless workers and always up for a challenge. It comes as no surprise to me that the Duke Perfusion team has received a national award for excellence. It is surely well-deserved."
Please join us in congratulating our entire team of perfusionists on their Pillar Award for Perfusion Excellence, particularly since this week is National Perfusion Appreciation Week (May 2-8).