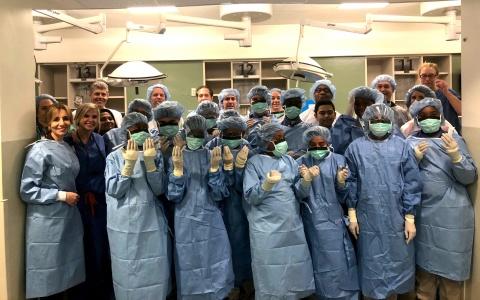 Earlier this month, 7th graders from the Durham Nativity School participated in a "Be a Surgeon" workshop thanks to an educational outreach program from the Duke Department of Surgery.
The department's Academic Success Through Surgical Education and Training (ASSET) program aims to foster high achievement in science through surgical education for financially disadvantaged students at the Nativity School. As part of the program, the department hosts students for workshops throughout the year, focusing on anatomy, simulation, and surgical skills.
For the fall workshop, the students visited the Duke Fresh Tissue Laboratory where they tested their surgical skills while learning about anatomy. The workshop began with an introduction to the team after which each student gowned up, gloved up, and scrubbed in. The Duke Surgery team included individuals from training, basic and clinical research, nursing, staff, and faculty from different surgical specialties who shared the highlights of their jobs.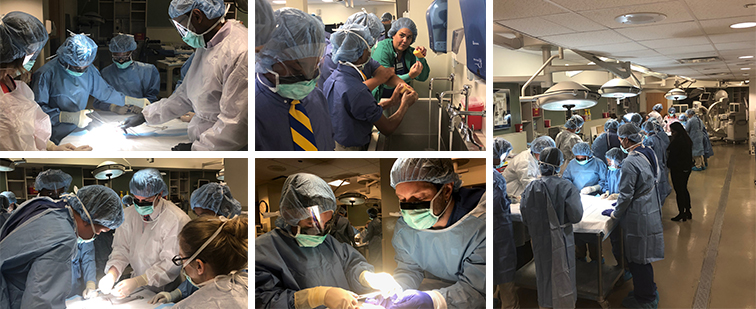 At stations positioned throughout the lab, the students learned how to dissect swine paws while team leaders taught the students about anatomy. After the anatomy lesson, the students practiced suturing and tying surgical knots on the paws to get a unique hands-on experience.
Thank you to those who made the ASSET Fall 2017 activity possible:
David Gordon, MD
Gayle Dilalla, MD
Sabino Zani, MD
Obinna Adibe, MD
Beth Hollister, BSN, RN
Todd Purves, MD
Elias Jaffa, MD
Traci Thoureen, MD
Analise Thomas, MD
Laura Lazarus, MD
Frank Leopardi
Jennifer Swain
Kathleen Ulrich
Mary Pickard 
James Bolognesi
Steve Wilson
Jessica Chmielewski
Harpreet Walia
Rita Weber
Gregory Georgiade, MD
Linda Cendales, MD
Theodore Pappas, MD
Allan Kirk, MD
About the Nativity School
Founded in 2002 by former Chief of Trauma Surgery Dr. Joseph Moylan, the Durham Nativity School is a tuition-free middle school for boys from low-income families in the local community. Dr. Moylan established the school to enable underprivileged boys to achieve academic excellence through a robust, comprehensive 12-year educational program beginning in middle school through the completion of college. As a result of this program, 91% of Nativity School graduates attend college.