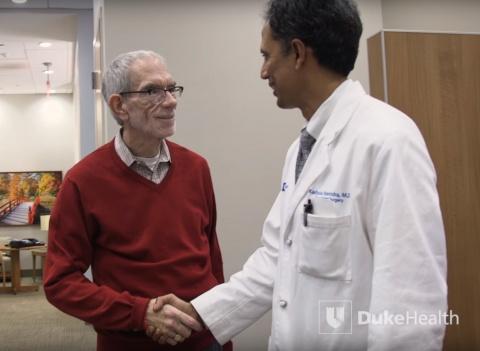 The Duke transplant team recently performed the first liver transplant in the state of North Carolina of an organ from an HIV-positive donor to an HIV-positive recipient, an operation that would not have been possible before the Hope Act was passed in 2013. Previously, organs from donors with HIV infection in the U.S. could not be used and were routinely discarded.
Kadiyala Ravindra, MBBS, Associate Professor of Surgery, Division of Abdominal Transplant Surgery, performed the surgery in December 2017. The patient, 61-year-old Stanley Boling, had hepatopulmonary syndrome as a result of a failing liver. His physicians in Tennessee referred him to Duke in July 2017, where he underwent extensive evaluation to determine his candidacy for transplantation.
"After Duke was approved to use organs from HIV donors, we began evaluating eligible patients who might benefit," says Dr. Ravindra. "Mr. Boling's liver disease was affecting his lung function to the extent that he required oxygen therapy even at rest. He had been very compliant on treatment for HIV for many years, and the infection was well controlled. The liver team at Duke determined that Mr. Boling was an appropriate candidate."
Being placed on two waitlists, one with HIV-negative and one with HIV-positive donors, considerably increased Mr. Boling's chances of finding a match—and one was found, just three days before Christmas last year.
The transplant surgery is the critical event that determines the outcome of the transplant process. When an organ offer comes, the surgeon coordinates discussions with the donor hospital, the organ procurement agency, the intended recipient, the operating room team, and the anesthesia teams.
"This was the first time we were dealing with a liver organ offer related to the HOPE Act," says Dr. Ravindra. "In addition to the detailed decision-making that exists with most organ offers, the presence of HIV infection added a new layer of complexity. In order to ensure the success of our effort, we held discussions with the hepatology and infectious disease teams to ensure the organ could be used safely despite the presence of HIV infection in the donor."
After discussion with the patient, a Duke team led by Andrew Barbas, MD, Assistant Professor of Surgery, Division of Abdominal Transplant Surgery, traveled to procure the organ. The liver was found to be of acceptable quality and was implanted successfully in a 7-hour surgery led by Dr. Ravindra and assisted by Dr. Barbas. Mr. Boling's postoperative period and recovery were relatively smooth; he was discharged from the hospital 7 days after transplant. His condition has been closely monitored, and he continues to have normal liver function. His lung condition improved sooner than anticipated.
"In many patients suffering from hepatopulmonary syndrome, it can take many months and up to a year to be free of oxygen support," says Dr. Ravindra. "We were pleased that Mr. Boling was able to reach this goal at four weeks from surgery. In February, he was released from the surgery service to the care of his transplant liver physician Dr. Carl Berg."
Dr. Ravindra says that surgical care for HIV-infected patients has come a long way since his initial medical training. "Improvements in drug therapy for HIV, implementation of universal precautions during surgery, and standardization of liver transplant care have enabled us to successfully expand complex organ transplant procedures to those with HIV infection. The results have been gratifying."
Mr. Boling is one of the nation's first patients to receive an organ from the HOPE Act. Duke is one of only 22 centers in the country authorized to perform these transplants, with 11 liver transplants performed nationwide prior to November 2017.
It is anticipated that this success will promote organ donation from HIV-positive individuals, expand the organ donor pool, and shorten the wait times for HIV-positive patients awaiting transplants.
News Coverage