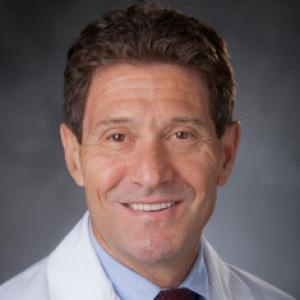 Principal Investigator
Professor in Surgery
Member of the Duke Human Vaccine Institute

Contact Information
Office: Surgical Oncolology Res Fac, Durham, NC 27710
Campus Mail: Box 2926 Med Ctr, Durham, NC 27710
Phone: 919-684-5278
Fax: 919-684-4288
Email: monte@duke.edu
Overview
Dr. Montefiori's major research interests are viral immunology and HIV vaccine development, with a special emphasis on neutralizing antibodies. One of his highest priorities is to identify immunogens that generate broadly neutralizing antibodies for inclusion in vaccines. Many aspects of neutralizing antibodies are studied in his laboratory, including mechanisms of neutralization, viral escape from neutralization, epitope diversity among the many different genetic subtypes and geographic distributions of the virus, neutralization epitopes, and the requirements to elicit broadly neutralizing antibodies by vaccination.
Over the years he has explored multiple technologies for measuring neutralizing antibodies and other potential antiviral antibodies, focusing on assay optimization, standardization, validation and high throughput. The scope of his research covers HIV-infected people and nonhuman primate models of simian immunodeficiency virus (SIV) and simian-human immunodeficiency virus (SHIV) infection.
Dr. Montefiori also directs a large vaccine immune monitoring program that operates in compliance with Good Clinical Laboratory Practice and has served as a national and international resource for standardized assessments of neutralizing antibody responses in preclinical and clinical trials of candidate HIV vaccines since 1988. In 2002, he chaired the Antibody Laboratory Standardization Working Group that assisted in the design of the Global HIV Vaccine Enterprise Strategic Plan for HIV vaccines. He currently directs the Core Neutralizing Antibody Laboratories for the HIV Vaccine Clinical Trials Network (HVTN), the NIH Preclinical HIV-1 Vaccine Program, and the Center for HIV/AIDS Vaccine Immunology-Immunogen Design (CHAVI-ID) and, more recently, the Duke Center for HIV/AIDS Research (CFAR). He also directs a large Comprehensive Antibody Vaccine Immune Monitoring Consortium (CAVIMC) as part of the Bill and Melinda Gates Foundation's Collaboration for AIDS Vaccine Discovery (CAVD). He has published over 500 original research papers that have helped shape the scientific rationale for antibody-based HIV vaccines.
Key Projects Underway
Ongoing characterization of the global neutralization serotypes of HIV-1
Identification of optimal combination of broadly neutralizing antibodies for HIV-1 prevention and treatment
Immunologic correlates of protection against the acquisition of HIV infection
Structural and immunologic requirements for broadly neutralizing antibody induction
Novel HIV-1 vaccine designs
Selected Achievements
Established "gold standard" reference strains and validated assays for highly standardized assessments of HIV-1 vaccine-elicited neutralizing antibodies.
Tiered categorization of HIV-1 neutralization phenotypes.
Detailed analyses of the magnitude, breadth, and complementarity of HIV-1 neutralizing antibodies.
Identification of novel neutralization epitopes.
First report of the initial HIV-1 autologous neutralizing antibody response targeting a broadly neutralizing epitope.
Demonstration that vaccine-elicited neutralizing antibodies can protect against the acquisition of simian-human immunodeficiency virus (SHIV) infection in nonhuman primates.
Identification of HIV-1 genetic signatures of neutralization. Translation of this information to vaccine design.
Discovery and characterization of complement-mediated antibody-dependent enhancement of HIV-1 infection in vitro. Subsequent identification of C3d and CD21 as the major pathway for complement opsonization by HIV-1. Discovery that HIV-1 acquires complement regulatory proteins (e.g., CD46, CD55 and CD59) as it buds from the surface of host cells and protect the virus from complement-mediated destruction.
Role of Fc gamma receptors in potentiating antibody-mediated HIV-1 neutralization through entry inhibition.
Demonstration of genetic drift and clade preferences in HIV-1 neutralization epitopes.
Advanced Training
Basic and applied research projects focusing on HIV-1 vaccine development 
Contact Us
David C. Montefiori, Ph.D.
Phone: 919-684-5278
E-mail: monte@duke.edu
Publications and Funded Projects
View Dr. Montefiori's profile to see his publications and funded projects.
Lab Members
Staff
Miroslawa Bilska
Amanda Eaton
Wenhong Feng
Alicia Gaitan
Hongmei Gao
Kelli Greene
Barbara Mitchell
Juanfei Gao
Leihua Liu
Renia Passie
Lautaro Perez
Amy Peterson
Haili Tang
Jin Tong
Elizabeth Yacovelli
Nolan Yeung
Jintao Zhou
Xiaoju Daniell
Zoe Charalambous
Nathan Newton