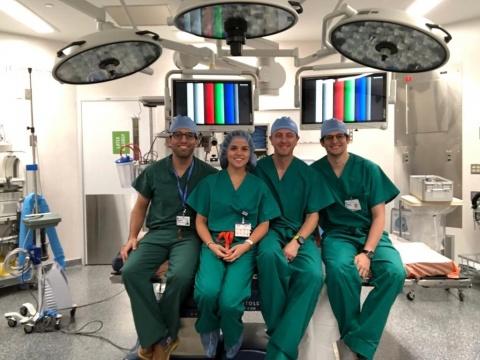 Dr. Guerrón, second from the right, with research fellows in the OR
From September 15 to October 15, the United States observes National Hispanic Heritage Month, which celebrates the positive contributions of Hispanic Americans to the nation's achievements, culture, and history.
In honor of the celebration, we sat down with weight loss surgeon Dr. Daniel Guerrón, who moved from Ecuador to the United States in 2004. He shares the experience of leaving his family and friends to train and practice in the U.S., how he's been staying sane during 2020, and what he considers his 28 minutes of fame.
---
Del 15 de septiembre al 15 de octubre, Estados Unidos celebra el Mes de la Herencia Hispana. A nivel nacional se celebra a los hispanoamericanos, sus contribuciones y logros a la cultura y la historia de la nación.
En honor a la celebración, entrevistamos al cirujano Bariátrico, Dr. Daniel Guerrón, quien se mudó de Ecuador a los Estados Unidos en 2004. Él comparte la experiencia de dejar a su familia y amigos para entrenar y practicar en los Estados Unidos, cómo ha sido mantenerse sano y cuerdo durante el 2020, y lo que considera sus 28 minutos de fama.
Q: When did you know you wanted to be a surgeon?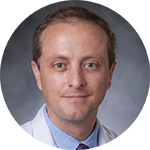 I knew that I was going to be a doctor when I was 11 or 12 years old. I have no idea why. I remember my father asking me what I was going to do when I grew up, and I always said a doctor. I remember being inclined to nature, biology, and social sciences.
On the first day of my medical school I realized and decided surgery was for me. I was very inclined to anatomy, to solve problems, and to work with my hands. I wanted to have the best surgical training in the world, and that's in the U.S., so I planned the trip to move to the United States and left everything in Ecuador. I had no family here, and no physicians in my family. I think it was my calling.    
Q: Did you always envision yourself going into weight loss surgery?
Weight loss was not my first choice. I was debating between pediatric surgery and hepatobiliary surgery. I met with one of my mentors at the Cleveland Clinic and had a long talk. Essentially what we discussed was that in weight loss surgery, with that one surgery you could change the life, and the fate, and the quality of life of a person. Not only that, but you put most of the conditions like diabetes, hypertension, and high cholesterol into remission. You help people, you help people to be active, you help people be able to enjoy life and play with their kids and grandkids. Realizing that was definitely a game changer for me.
Q: You moved to the United States in 2004. What was that experience like, and what do you miss about Ecuador?
Yes, May 17, 2004. I remember the day. I always say my entire life is in Ecuador: friends, acquaintances, my immediate family, including maternal grandparents. I left everything behind to train in the U.S. What I miss the most is my family of course, being close to my mother, my sister, my father. Sometimes you miss those big life events, like births, graduations, deaths.      
Something a little less sad: I miss soccer. We had professional leagues, so we could go to the stadium Wednesdays and Sundays, year-round, and see a professional game. I also miss the food! I'm from Quito, which is a city in the highlands with colder weather. We ate a lot of soups. I also miss the mountains.
Q: Speaking of COVID-19, how have you been staying sane during all the things that have happened in 2020?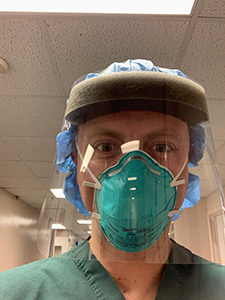 It's been a total rollercoaster. At the beginning, I was ready to help my patients and the population here. At one point we were busy with call and surgeries, so my mind was occupied with that. But then we had periods during lock down, more time at home without any face-to-face clinical activity. I missed the OR, taking care of my patients and working with my team. That was tough.
I've done lots of running, and I picked up road biking, so the bicycle is like my new best friend. North Carolina is so beautiful, you just jump on that road bike and just go.
I've been spending more time with my family. I have a whole army here: I have four kids, 9, 7, 3, and 18 months, and we just bought a puppy. You don't appreciate how much work the teachers do for you, educating your kids, shaping their personalities, and helping them socialize. It's been challenging, but at the end of the day I loved that we got to know the kids in a different aspects of their life that I missed while working in the hospital.
Q: At Duke, the university and health system are trying to create a more diverse workforce. Currently you're one of the only Hispanic surgeons at Duke. What is your perspective on that, and how do you think Duke can continue to improve in that regard?
I trained at the Cleveland Clinic, so that was essentially like the United Nations. I mean, different accents, different colors, different people, different orientations and for me that was one of the most valuable things. I was very pleasantly surprised that at Duke there are people from all over the world, Europe, from Argentina, Asia, India, and so on.
Dr. Linda Cendales invited me to join the Diversity & Inclusion committee, and I was impressed with all they are doing, recognizing different genders, different sexual orientations, different races, trying to involve more women in leadership positions. In that regard, I feel that this is a very open and safe place for everyone.
Q: What have you read or watched lately of interest?
I'm reading Guns, Germs, and Steel by Jared Diamond. It talks about some of the questions I always think about: why are different communities or different populations able to thrive in different ways? Why do we misjudge certain populations?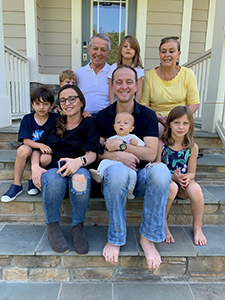 I'm also watching Street Food on Netflix. I enjoy cooking. I always admire the food that people eat that isn't high-level cuisine. I like cooking arepas from Venezuela, or ceviches, different vegetables, asados or Spanish tortilla de patatas.
Q: What's one thing that people would be surprised to know about you?
I used to be a very good tennis player back in the day. Where I used to play, the ATP organized one of those entry level professional tournaments called Futures. These pro circuit tournaments grant points for the world ranking.  Organizers gave the better players in my tennis club a wild card or invitation to play the qualifying tournament and try to access the main draw, so I went to play in the first round qualifying match.          
My opponent, a real professional, destroyed me in like 28 minutes. So that's it, I played professional tennis for 28 minutes.