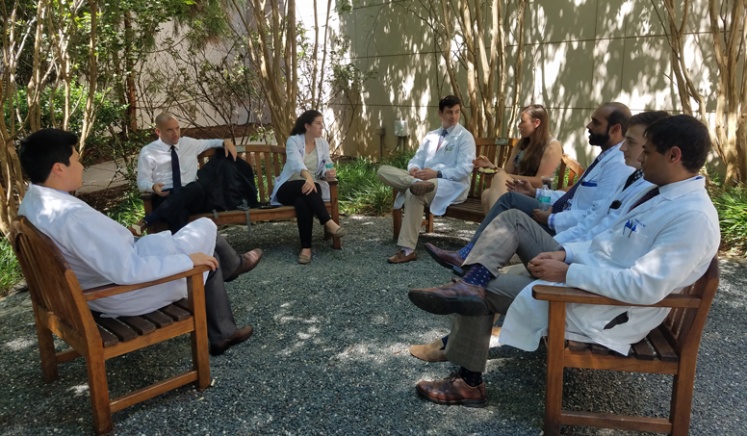 Over nine decades of experience in caring for patients with urologic diseases has established Duke's Division of Urology as a world leader in urologic care, research, and education.
Under the direction of Dr. Michael Ferrandino, the Duke Urology Residency Program offers exceptional training for dedicated students who are interested in an experience that will prepare them for either academic or independent practice. Our program meets all the requirements of the American Board of Urology (ABU) and is fully accredited by the American Medical Association's Accreditation Council for Graduate Medical Education (ACGME).
The goal of Duke's urologic surgery residency program is to provide a balance between patient care, teaching, and research in the areas of oncology, male infertility and sexual dysfunction, urolithiasis, reconstructive urology, female urology and urodynamics, pediatric urology, and minimally invasive surgery. Thorough training in these urologic subspecialties is made possible by the tremendous volume and variety of cases that are presented at this nationally acclaimed university medical center and its affiliated institutions. Training consists of teaching, independent responsibility, and learning through observation, direct supervision, and hands-on experience.
Clinical Urologic Training and Research
The resident enters our program in the PGY1 year as an active member of the urology team. Trainees can expect six months of urology experience, comprising operative, clinical, and floor experiences. After the PGY1 year, the program consists of four years of clinical urologic training and one year of research. The entire third year is dedicated to urologic research with minimal clinical responsibilities aside from a few weeks of night float.
Under the direction of Dr. Matthew Fraser, the ultimate goal of the research fellowship is for the trainee to learn the basics by performing high-quality research, presenting it at regional and national meetings, and submitting it to scientific publications. The trainee is also encouraged to submit grant proposals. Completion of the year includes:
Continuation/completion of research projects
Presentations at regional and national meetings
Preparation of a peer-reviewed manuscript(s) for publication and to gain greater insight into the field of research
In addition to clinical training and research training, residents participate in regular conferences, including Grand Rounds, Tumor Board, Journal Club, Quality Improvement, Radiology, Pediatric Uroradiology, Core Curriculum, Urodynamics, and AUA updates.